Korsolex
Dangers during cosmetic procedures
Cosmetological procedures have always been in demand among beautiful ladies, who want to be beautiful to the fingertips. Coming to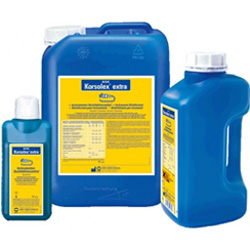 a manicure room, salon, hairdresser's or to an appointment with a cosmetologist, we sometimes forget to learn about how to process tools, premises, as well as the hands of a master. This leads to sad consequences, because the statistics report a large number of cases of infection during procedures. To avoid this, the wizard must carefully process the tools and monitor the cleanliness of the surfaces of the room.

Indeed, to ensure the safety of employees and customers salon or beauty salon, you can only observe the rules of hygiene in the workplace, and also by disinfecting the tools used after each client. Products for disinfection of instruments can be bought in our stores at reasonable prices.
Korsolex Extra
Korsolex Extra is a special solution intended for disinfection, sterilization and sterilization. In order to clean the instruments, they must be placed in a solution, the concentration of which is calculated based on the instructions. Exposure time is also maintained in accordance with the methodical recommendations, because during this time all pathogenic microbes and viruses must perish. In order to disinfect surfaces it is necessary to irrigate them or wipe them with Korsolex solution with a napkins.
Advantages of Korsolex:
a wide range of activities;
does not damage materials;
good at cleaning tools;
the working solution can be stored for 7 days;
has a neutral odor that does not cause discomfort during operation.
How is disinfection and sterilization carried out with the Korsolex Extra solution
Korsolex is used as a disinfectant for cleaning instruments in medical institutions, cosmetology and manicure rooms, inpatient hospitals. Korsolex's aqueous solutions are very well washed away, do not harm tools made of stainless steel. To get a ready-made solution, you need to take a container and dilute it with cold water. The finished solution can be stored for 21 days, after the time it loses its properties. Sterilization of surgical, dental, manicure tools from different materials is carried out immediately after use, immersing in a solution that was previously diluted in a sterilization container with a closed lid. After disinfection, tools must be rinsed under running water. Korsolex can be used in all ultrasonic baths, which are made of stainless steel. Be sure not to over-rest tools in the UV bathtub, the time for sterilization is indicated by the tool manufacturer.
How to properly dilute the product, you can find out by logging into the Korsolex Extra card and downloading the methodical instructions on the use of the drug. They describe everything to the smallest detail.
The technology of using the products:
First, you need to prepare a disinfectant solution. To do this, use a measuring cup in a container to pour water, then add the concentrate.
Lower the instrument into a sterilization container or into an ultrasonic wash in an open or disassembled condition immediately after use, avoiding drying. A rotating tool, for example a nozzle for a router, must be disinfected separately from the hand. For this purpose, there is a special container for sterilizing the cutters. Important! The solution should completely cover the tool and be above it by about 1 cm. The exposure time depends on the concentration of the solution.
Next, you need to clean the tools. Under running water for several minutes (3 to 5), it is necessary to thoroughly rinse the treated tool from debris and disinfectants. After that, be sure to dry the instrument using disposable napkins.
Subsequent sterilization can be carried out in a container, quartz sterilizer (glasperlene), or in dry heat (autoclave). In chemical sterilization, only a special solution should be used, which was prepared in accordance with the requirements specified in the guidelines.
Immediately after sterilization, it is necessary to move the instrument to the UV sterilizer for storage or use immediately.
Buy Korsolex in the online store Tufishop
In order to buy Korsolex - a means for disinfection, you just need to leave an application on our website or place an order with our manager in the phone mode. Also on our site you will find a large number of disinfectants: Biolong, Bacillol, Surfanios, Blanidas. We deliver goods throughout Ukraine using such transport campaigns as Nova Poshta and Ukrposhta. If desired, the delivery in Kiev can be carried out by courier to the address indicated by you. Choosing our store, you choose quality and reliable products.  
Reviews